Stop Being
 Lost and Confused in Family Court.
Get Battle Ready using the strategies top lawyers use to win in Family Court. 
Did you know that Dads lose 80% of the time because they're not prepared?
Learn how to prepare your case, build a game plan, and have a strategy to win the Judge over.
JOIN THE UNION TODAY!
THERE IS HOPE
Be Battle Ready to Show The Judge WHY and HOW You're a Great Dad.
Learn the formula to show the Judge that you're a Great Dad.  
Dive deep and plan your strategy with other men and a Family Lawyer.
Ask David those questions you need answers to by email or in the twice monthly Virtual Meet Ups.
Access Sample Documents you customize to make the best First Impression with the Judge.
Build the life you've  dreamed of with your kids.
Once you're in the fellowship of Dads you'll get to know other dads who are living the same nightmare so  you're not alone. Together we can get through this.
Get Access to  Special Events like an Annual Dads Rally.
Yes, It Really Is Possible!
As a member of the Union of Dads, you'll learn how to represent yourself in court and how to take control of your family's future.
JOIN THE UNION TODAY!
In The Next 6 Months, You Could…
Have a Parenting Plan you love!
Be the DAD you want to be!
The right strategy moves can make all the difference. We'll cover it all in DADs Law School with courses like the Child Custody Action Plan, Discovery 101, Evidence and  Contempt for when your ex wont obey the Court Orders.
When You Join The Union of Dads You ...
Get Coached on Family Court Strategy by An Expert Attorney
You know the best players always have a coach, a strategy, and know how to implement it. Coaches are crucial for success. As a Union of Dads member you get access to David Pisarra. For over 20 years he's fought for Dads in Family court and now you get him in the Meet Ups and by email to review your Game Plan and work together on:
The different types of evidence you'll need.
How to write your declaration
The best strategies for proving you're a Great Dad.
You'll be better prepared, for this, and EVERY OTHER BATTLE you have to face in Family Court.
Get Heard and Understood In Our Private Forum for Dads
Having a confidential, private, NOT on Facebook Group, we can make sure that any stalking exes can't just snoop on what's being said. You get to share the truth and not be worried about it biting you in the butt.
Be Safe Sharing What's REALLY Happening
Know that you are Not The Only One - you're not crazy.
Know that you can be honest and validated
You'll get the support you need to fight the battles and build a strategy.
End the Isolation with Two Monthly Meetups Of Dads 
You join a group of men who are facing the same battles as you, have the same questions about how to handle this Battle, and Twice A Month:
Learn How to Prove You're a Great Dad
Make new friends who "GET IT!"
Safely express those feelings of anger and frustration
You'll be part of a group of men who will help you navigate court and life. The host, David Pisarra will be answering strategy questions and sharing what's helped other men.
You Wont Be Left Behind - With the Library of Prior Meetups
Having a library of resources to rely on gives you hours of information. Union members get access to all the past recorded sessions so you never have to miss a Meetup or feel left out. 
All the prior questions answered are available for  your review.
24 Hour Access to the Library
All our strategies are ready for you to watch and learn.
Get the Information you need today!
Hey Dad, here's my story.
After graduating law school and passing the Bar in California I started my law firm. 
I quickly learned how men are treated in Family Court and realized that men need help.
Over the past 20+ years, it's only gotten worse for men. Especially for dads - they need help more than ever.
The more time I spent in Court, the more I realized something had to be done to help these dads who can't afford a lawyer, but make too much money for Legal Aid to care.
That's why I started the Union of Dads.  I had to find a way for dads to learn how to help themselves.  This platform allows me to help more dads.
Dads learn how to develop their legal strategy and get the evidence they need to show the Judge, how and why they are Great Dads.
My purpose is to help Dads understand how the  courts work, and help dads make a great first impression. I look forward to meeting you in the Union of Dads  Meetups and helping you represent yourself to protect your kids. 
Come join us. 
David Pisarra, Esq.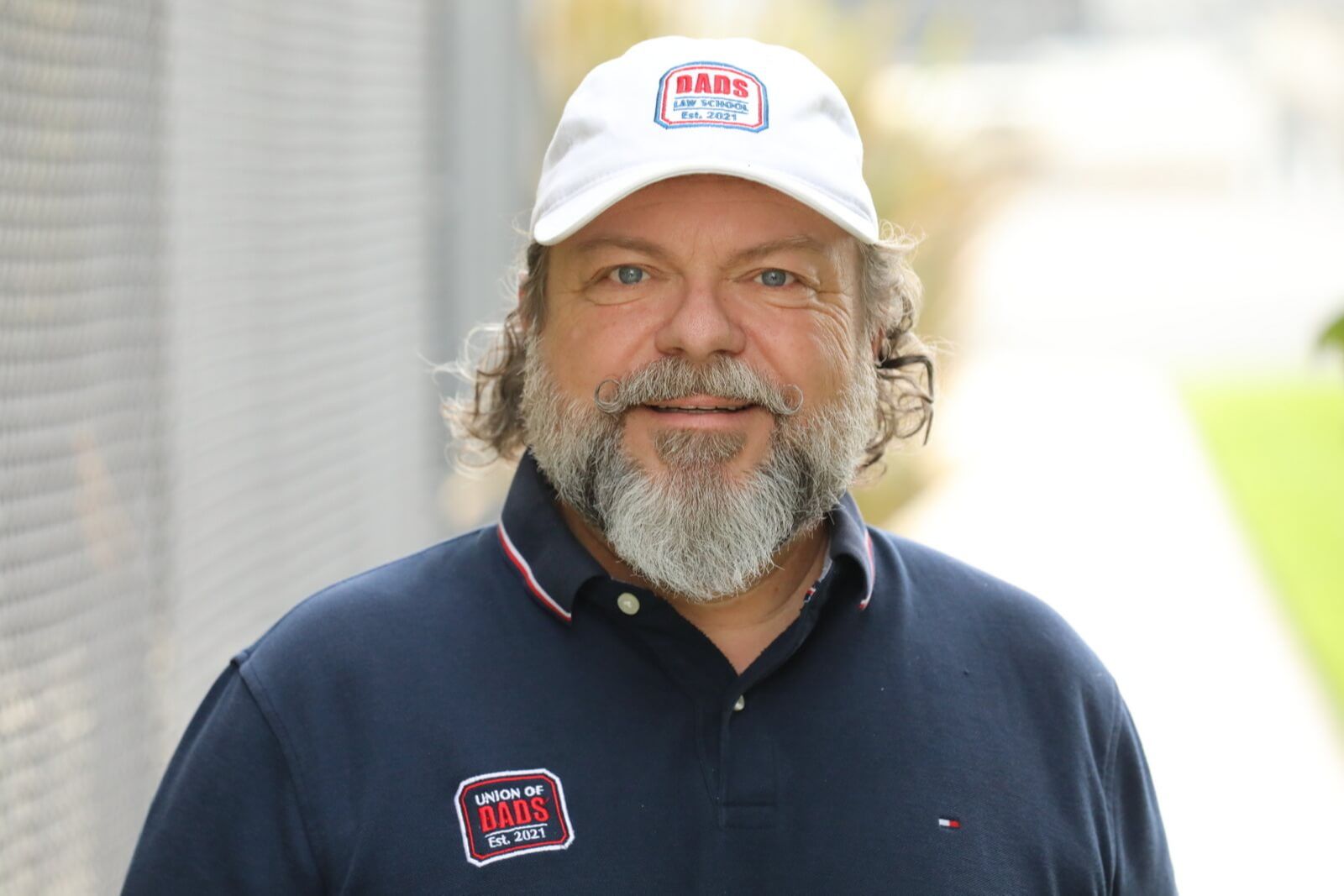 BONUS: DAD's Law School
For the Dad who is representing himself in court, these are the ESSENTIAL COURSES to understand what the Judge and lawyers are doing.
DAD's Child Custody Action Plan
When you have a Custody Hearing coming up quick, you need to get into action to protect your rights. The Judge needs to hear from you. This is the FOUNDATION Course you need.
DAD's Discovery 101
Discovery is the process of gathering the evidence to prove the other wrong. Subpoenas, Interrogatories, Request for Production of Documents, what it all is, and how to use them are covered in this course.
Evidence 101
Once you have the documents, you have to use them in court to prove  your case. Take this course so that you can use the text messages they sent. Learn how to introduce an exhibit and move it into evidence so you can win.
Contempt 101
You follow the court orders to the letter - the Ex, not so much. Or not at all. How do  you get them to obey? Take this course and learn what Contempt of Court means and how to get the judge to enforce their orders.
"I'm so glad that I took this course and listened to David! He really breaks it down and makes it seem doable. I did way better in my case than the other dads I saw in court. Thank you David!"
- Shaun S.
"I found him on TikTok and am so glad that I did. This sh*t helped me get a better deal. The judge saw through her crap when I pulled up the Dad's Daily Calendar and I nver would have thought of it without Dad's advice"
- Walt R.
"Totally worth it! I won in court and this course helped me be ready for the BS my ex was throwing at the Judge. My kids now live with me and are doing great. Couldn't have done it without you. Thanks Dad!"
- Dave "The Marine" G.
"I was completely lost, scared and didn't know what to do next. David coached me through the divorce and child custody phase. He saved me thousands in legal fees and I kept my kids. Thanks Dave! You were Right."
- Ross D.
"We were sure the marriage was over, didn't want to go to war. David's information showed me how to represent myself and we got it all done and my kids were spared the battle and hurt."
- Jimmy C.
"I followed David's plan and strategy. Today my kids are in my life. The Ex and me are on okay terms today. I didn't waste time and money on BS in court - just got right to the point. I'm so glad I listened to David."
- Oscar M.
BECOME A MEMBER TODAY!
UNION OF DADS
14 DAY MONEY-BACK GUARANTEE
If you aren't satisfied with Union of Dads let us know within the first 14 days for a full refund. No questions asked.
Are my results guaranteed?
Can I share course info with a friend?
I learned a ton and want more! What else do you offer?